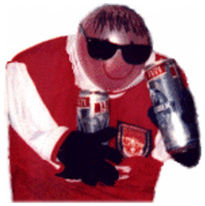 Up The Arse! is a virtual print-only fanzine, and by that it means that we have virtually no idea when issues are going to be printed!
Our more regular pages are in The Gooner where you will find 4 pages of Up The Arse! jokes six times a season. We compile these pages into an end of season special which contains the Gooner pages and others which didn't make the cut for various reasons plus some of our Twitter memes. This is only be available through the post, so check the Shop for details.
And as you may see if we find a gap in our schedules, we're still up for putting out new issues if we think there is a demand for them, and it seems that some of you still want to read jokes about Spurs, so who are we to cast nasturtiums?
You can contact the editor at editor@upthearse.net